Sep
12
2023
Nanotechnology Core Facility User Workshop
Address
842 W. Taylor Street, Chicago, IL 60607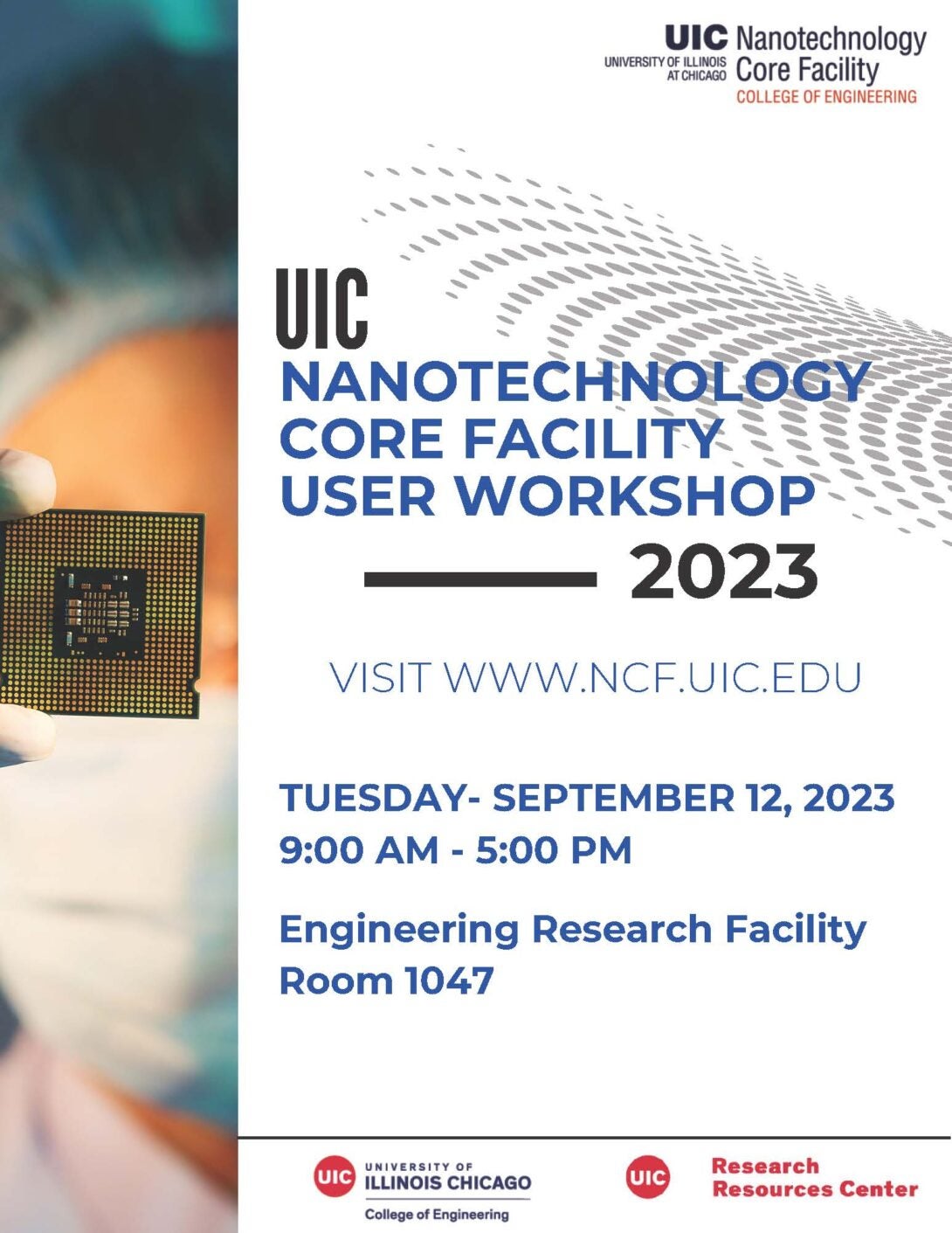 We would like to invite you to attend the 2023 Annual UIC RRC Nanotechnology Core Facility (NCF) User Workshop, which will take place on Tuesday September 12th 2023 on the Campus of University of Illinois Chicago, Engineering Research Facility (ERF) 1047. The workshop format will be hybrid (online and in person) and the attendance is free. Registration information to come shortly.
The workshop aims to bring together researchers from industry and academia including NCF users, invited speakers, NCF staff and faculty, to exchange ideas and showcase the research performed at the facility. In addition, the workshop will provide highlights over the facilities capabilities, services (such as foundry connections in Quantum and VLSI), provide an overview of NCF strategic directions and continuing education plans within the Chicagoland area and Midwest micro/nanotechnology ecosystem.
Highlights include:
* Overview over NCF, its capabilities, and its long-term mission to support micro/nano research at UIC.
* Introduction to MEMS/NEMS, nanotechnology, and microfabrication
* Keynote presentations
* Plenary talks by NCF users
* A poster session, including overview over key equipment capabilities
* NCF lab tours
Who should attend ?:
* NCF users interested in presenting their work and exchanging ideas, learning about other projects at NCF.
* Faculty and  students interested in learning how to use NCF, its capabilities, or getting an overview over what nanotechnology is and what we can do about it at UIC
* NCF users interested to learn about external and internal micro/nano technology funding opportunities regarding to micro/nano technology, and how NCF can assist in obtaining those
* Individuals interested to learn about courses, classes, and continuing educational opportunities at NCF
We invite you to attend and to present your work at the workshop: We have both presentation spots and poster session spots available for you or your students. If you are interested in presenting, please let us know and we'll reserve you a spot!