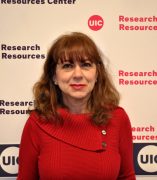 Figen Seiler
Senior Research Specialist
Electron Microscopy Core
Contact
Building & Room:
Medical Science Building, E32B
Address:
835 South Wolcott Avenue
Office Phone:
Email:
About
Figen has over 25 years experience as a life science microscopist.
Figen completed her MS in Cell Biology before moving onto Abbott Laboratories as an Electron Microscopist and Cell Biologist. After 19 years at Abbot she moved on to manage the Electron Microscopy Center at Rosalind Franklin University before joining the RRC in January 2016.