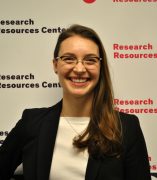 Olivia Perez
Assistant Director
Electron Microscopy Core
Contact
Building & Room:
Science & Engineering South, Room 111
Address:
845 W. Taylor Street
Office Phone:
Email:
About
Olivia has a MS degree in Geology from the University of Puerto Rico - Mayaguez, where she obtained experience in using several different SEMs at a number of institutions. She studied the 1.85 Ga Sudbury Impact Crater basin at a microscopic level, establishing the preservation of shock microstructures in minerals and demonstrating that a detrital shocked mineral record exists in a Precambrian impact basin. She used petrography and SEM (SE, BSE, CL, EDS and EBSD) to document a range of shock microstructures. Olivia has established a new approach to identifying terrestrial impacts. Reconstructing this record is a major focus of planetary geologists. In recognition for her research the Planetary Geology Division of the Geological Society of America honored Olivia in 2011 with the Eugene M. Shoemaker impact cratering award. She joined the RRC in March 2014.