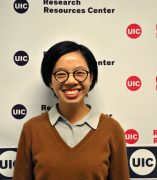 Fengyuan Shi
Director
Electron Microscopy Core
Contact
Building & Room:
Science and Engineering South, Room 112
Address:
845 West Taylor Street
Office Phone:
Email:
About
Fengyuan did her thesis at University of Wisconsin - Madison working for Paul Voyles looking at Ferromagnetic / Metal Oxide interfaces in Magnetic Tunnel Junctions using HRSTEM and STEM EELS. She then moved as a postdoctoral fellow to Vinayack Dravid's group at Northwestern where she collaborated with many users of NUANCE. Fengyuan joined the RRC in March 2016.