Instruments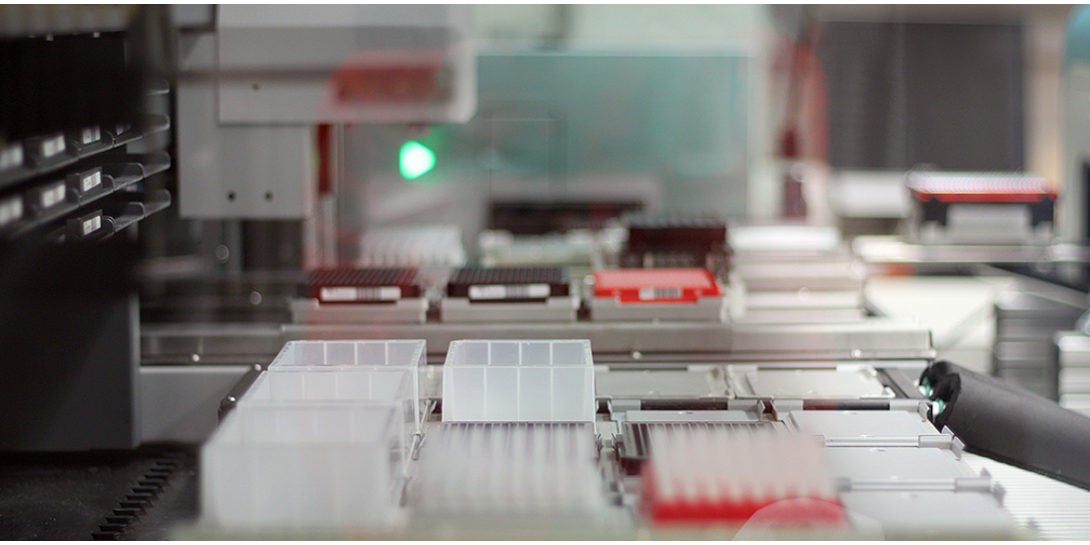 Location: MBRB Room 3211
Description: The Tecan Freedom EVO is the workhorse of the High-Throughput Screening Facility. The robot performs a variety of liquid-handling tasks using two different pipetting components, an 8-channel liquid-handling arm and a 96-MultiChannel Arm. The robotic arm of the EVO moves plates, troughs, and tips to specified destinations, and integrated deck components allow for barcode scanning, plate sealing, plate shaking, and spectrophotometric measurements.
Technical specifications:
Deck Capacity (Dimensions): 33-microplates (780mm x 2050mm x 870mm)
LiHa
Liquid handling 8-Tip/Syringe System with Low Volume Option (0.5 to 250 uL)
10 microliter with CV < 1% (using low volume option)
1 microliter with CV < 5% (using low volume option)
Teflon coated, low volume, ceramic, and disposable tips.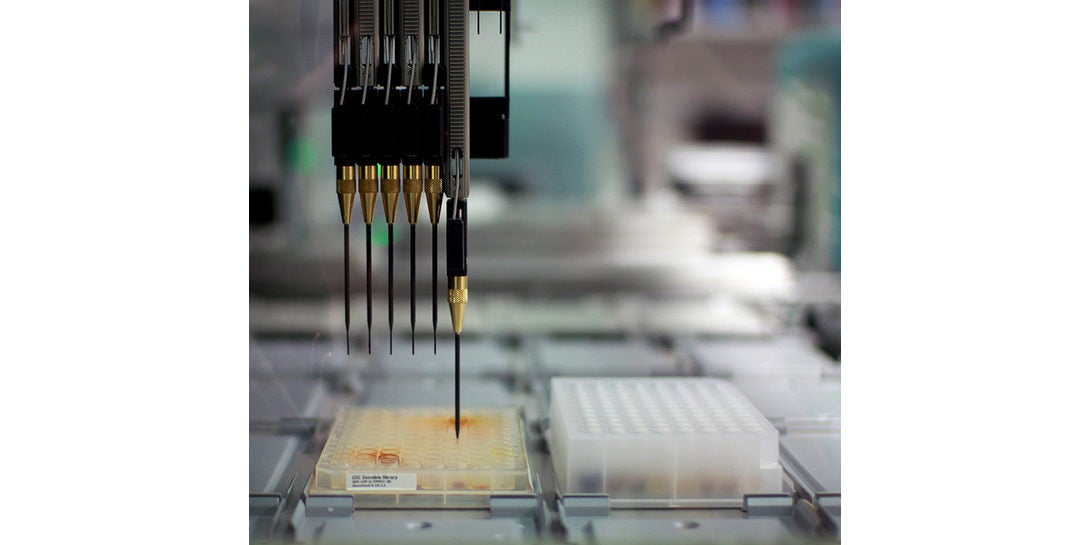 RoMa: Robotic Manipulator Arm
Rotation of 270°
Standard and extended z-range (to access devices beneath the deck)
Centric and eccentric gripper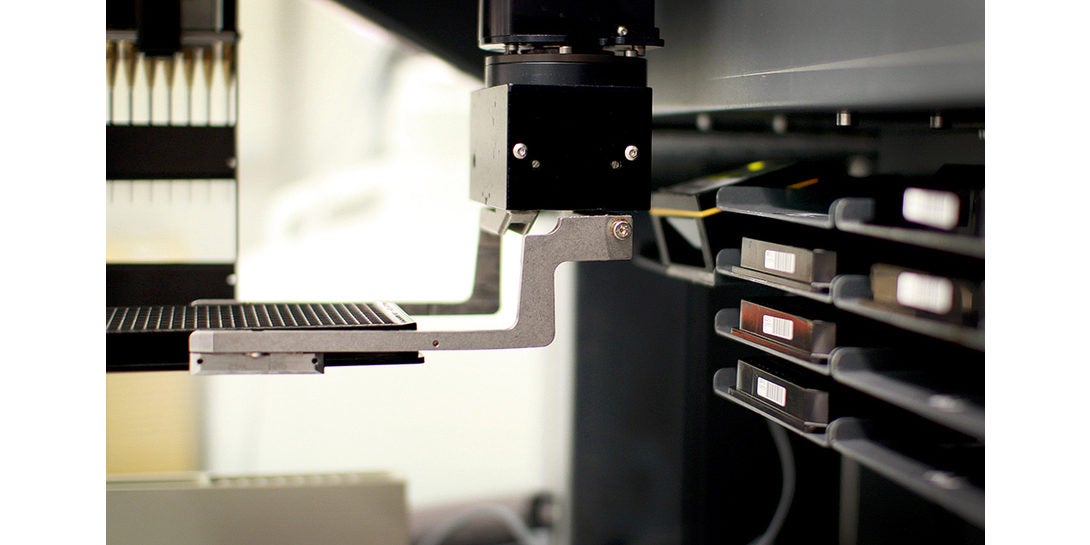 TeMo (3/3): suitable for 96-, 384- and 1536-well plate formats
96- MultiChannel pipetting head
1 – 200 microliter / CV < 5% at 1 microliter
6 positions for plates, 3 positions for troughs, wash stations and/or disposable tip racks
Active wash station for 96-channel head with separate channel for each tip – two different wash liquids possible.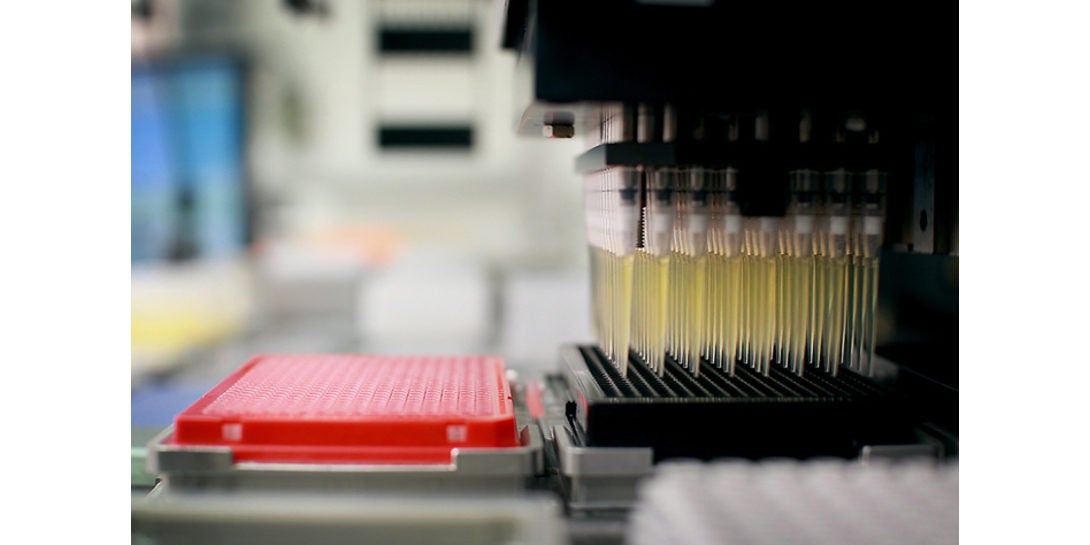 TeVac: automated vacuum manifold
TeShake: automated shaking platform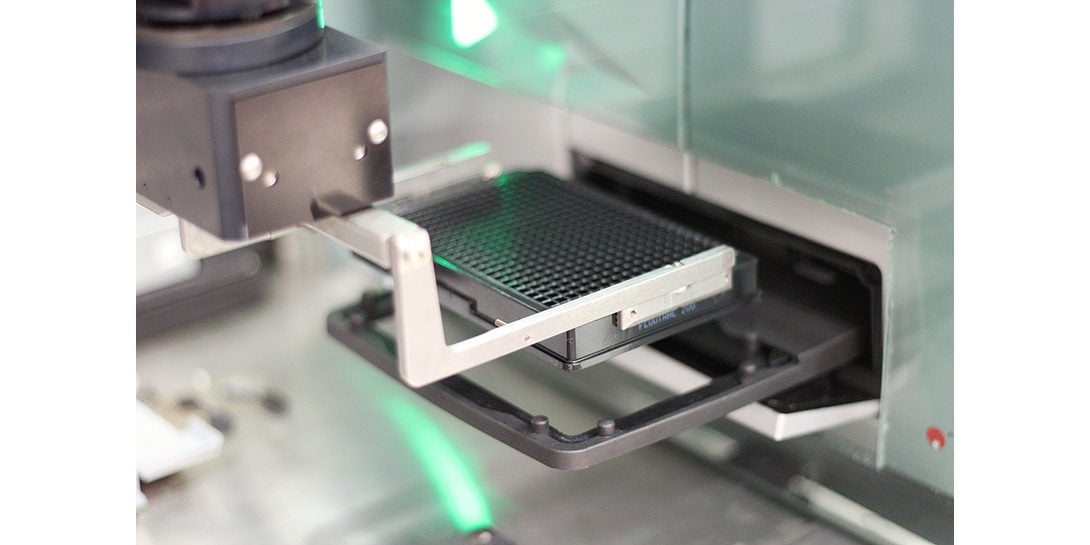 Location: MBRB Room 3211
Description:A general-use spectrophotometer with multiple detection capabilities: fluorescence polarization, fluorescence intensity (top & bottom reading), Fluorescence Resonance Energy Transfer (FRET), absorbance (UV to NIR range), flash-type & glow-type luminescence, and dual color luminescence.
Dual Injectors with advanced injector design allows simultaneous dispensing & reading. High-quality syringe pumps guarantee high precision & optimum mixing.
High-end mirror optics and three detectors guarantee maximum sensitivity.
Well-scanning function available for compensation of uneven cell distribution.
Multi-label kinetic reading provides higher information content per application.
Magellan software offers full data reduction.
Available filters:
Wavelength (bandwidth)

280 (20) nm
320 (25) nm
340 (10) nm
340 (20) nm
360 (25) nm
400 (10) nm
450 (20) nm
460 (25) nm
465 (35) nm
485 (20) nm
492 (10) nm
495 (10) nm
500 (10) nm
520 (25) nm
535 (25) nm
560 (20) nm
570 (10) nm
590 (20) nm
595 (20) nm
600 (10) nm
610 (10) nm
612 (10) nm
633 (10) nm
665 (8.5) nm
670 (25) nm
Location: MBRB Room 3211
Description: The HydroSpeed is Tecan's advanced microplate washer, designed to provide optimized washing of cells, beads and ELISAs in both 96- and 384-well formats. It offers full control over critical wash parameters to help maximize assay efficiency.
Drop-wise dispense speed to avoid cell detachmenty.
Optimization of dispense position to minimize turbulence in the wells
Tunable aspiration parameters, including needle position and vacuum level, to avoid cell loss
Anti-Clogging function
Instrumentation and services are available to all researchers inside and outside of the university.
Researchers from the Northwestern University and the University of Chicago are provided internal rates as all UIC users. All other users can access services but at an external academic or external non-academic rate, which is determined using subsidy and market rates.
All users must register their funds by creating a RRC account before requesting service or scheduling equipment usage.
All users are responsible for their own laboratory safety training to be current during each use of the core facilities.