Services
The RIC offers a wide range of bioinformatics services, covering genomics, transcriptomics, epigenomics, metagenomics, metabolomics, and proteomics, as well as associated statistical analysis, systems biology, and machine learning applications. Bioinformatics analyses are catered to the aims and requirements of each project individually, following initial service request consultations.
In addition, the RIC is dedicated to supporting grant applications for UIC researchers. In addition to Letters of Support detailing RIC capabilities as they relate to a proposed project, we can also assist with crafting the study design and research strategy, and devising a budget for informatics analysis.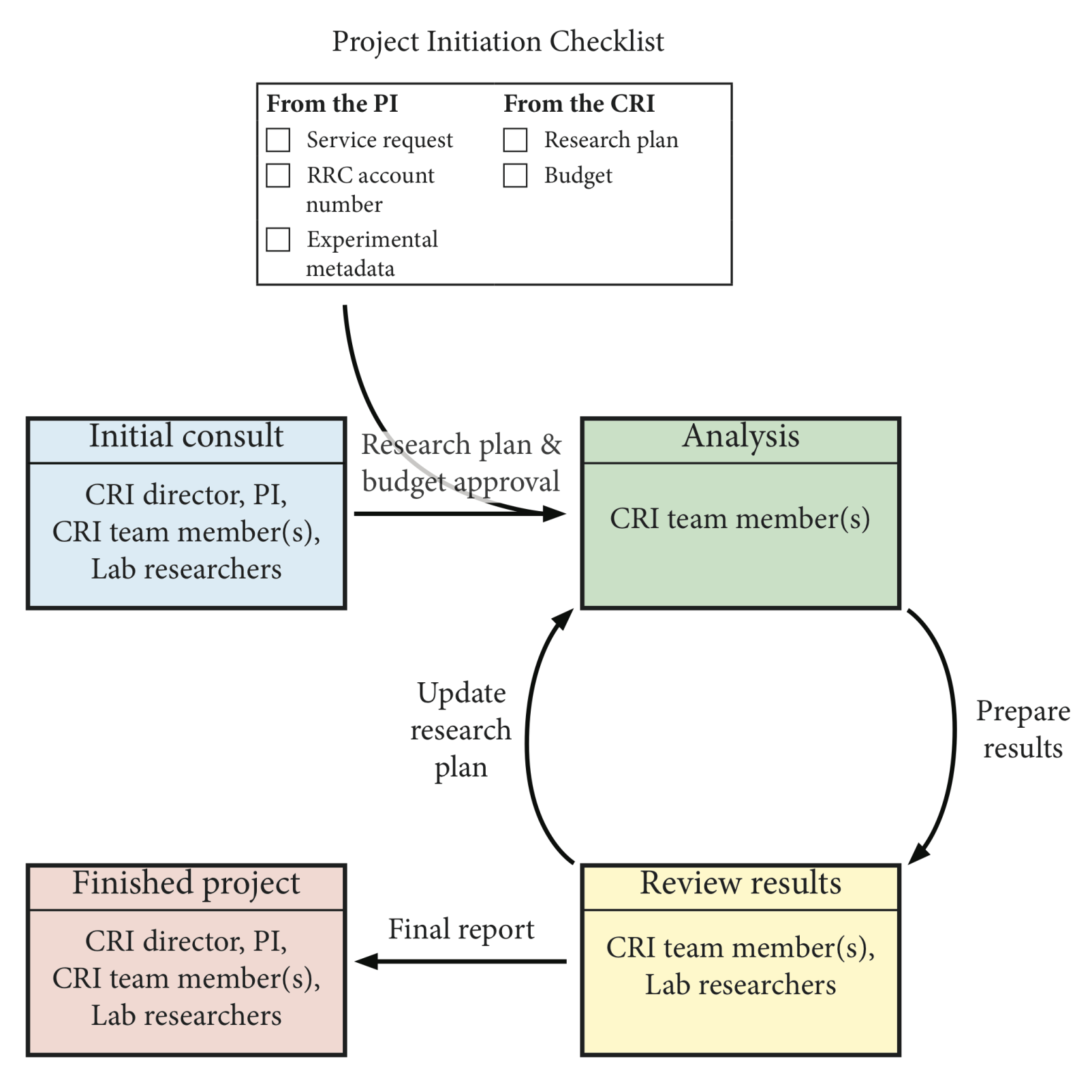 Projects with the RIC begin with a consultation to review the scientific aims of the project and the experimental strategy. We will review details of study design and create an analysis strategy optimized for each project. This will be detailed in a project plan, prepared after the consultation, and accompanied by a timeline and budget for the initial analysis. Project plans may be updated or modified as the analysis proceeds based on feedback from researchers or the intermediate results obtained.
Consultations are always free of charge.
As part of our standard practices, all projects include a certain number of services:
Consultation for project initiation, including experimental design, and follow-up communication
Data handling, including data transfer and integrity assurance
Raw data quality control based on experimental platform and experiment type
Compilation of results and report preparation
Access to results on the RRC Data Portal
To request a consultation, please fill out a service request form at RRC iLab: go.uic.edu/ric.
To register with iLab, please follow instructions here.
To inquire about bioinformatics services, please contact us.
We have standardized analysis methodologies for many services, such as RNA-seq, but due to the rapidly changing nature of the bioinformatics field and the analysis complexities that are specific to different projects, we are unable to provide static quotes for services. If you would like a quote for your project, please contact us to schedule a free consultation. After reviewing your project and analysis needs we will be able to provide a project plan and budget. Internal rates for customized analysis services is $85/hour.
Consultations are arranged by appointment only. To inquire about bioinformatics services and set up an appointment, please contact us.
Please note, Investigators from Northwestern University, the University of Chicago, and Rush University are provided internal rates as all UIC users. All other users can access services at either external academic or external non-academic rate.